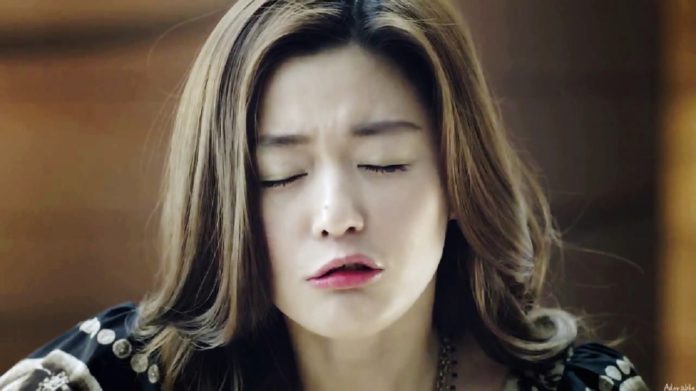 Korean 'CF Queen' Jun Ji-Hyun is well known as a versatile actress to us- thanks to domestic & international success of her movie-dramas like 'My Sassy Girl', 'The Thieves', 'My Love From The Star' and 'The Legend of the Blue Sea'. But there were times even her sensational CFs (Korean coined term for 'TV Commercial') were banned from TV Broadcast!
Sounds unconvincing, right? Then let's dive into those CFs and find out the real reason why those sensual commercials of Gianna Jun was banned from Korean Public TV networks.
01. Jun Ji Hyun's Orion Chicky Nacho CF (2012)
It was 2012 when Jun Ji-hyun's movie career resurged through box office success of Korean heist film 'The Thieves'. So even after getting married at the same year, she got more endorsement deals in her hand.
However, observing Jun Ji-hyun's great popularity among youngsters, Korean confectionery brand 'Orion' appointed her as their model in the same year.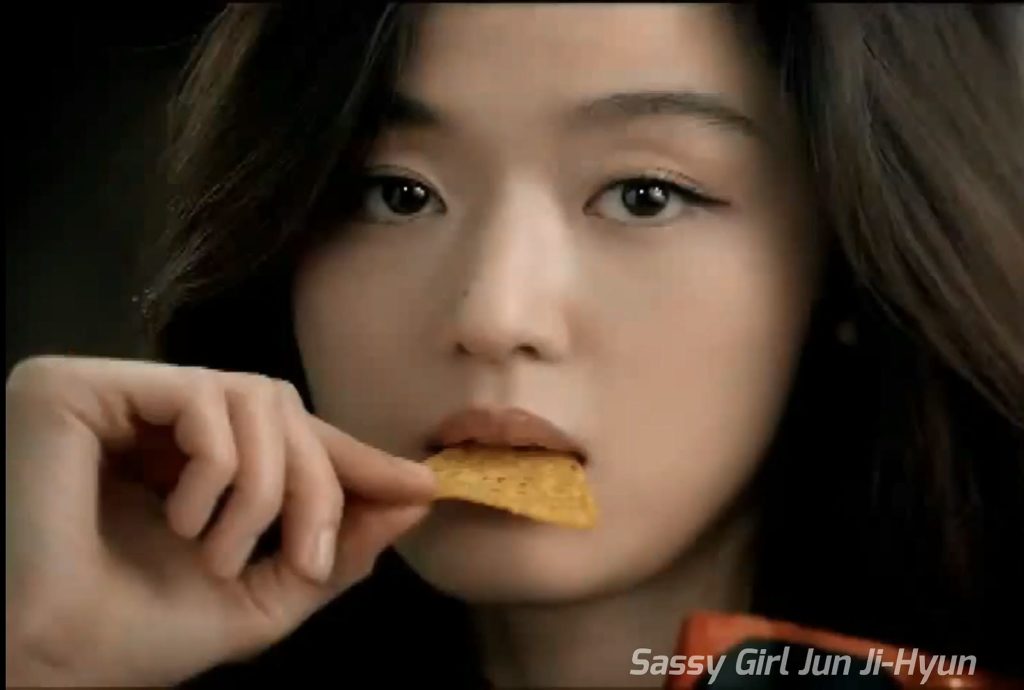 "Jun Ji-hyun's brand image, representing urban women in their 20s and 30s, fits well with our product (chicky nachos). So we decided to appoint her as a model."- said an official from Orion.
"We hope that it would lead an increase of sale among young consumers." he further expected.
Then, Orion released their first Nacho CF with Jun where her character was definitely a reminiscence of 'Yenicall' (her femme-fatal character from 'Thieves').
And as expected, Jun Ji-hyun looked so cute and sexy in it that adult audience and her fanbase must be lured into trying this nacho for once in life!
But you know, her suggestive gestures seemed kinda 'too provocative' for younger audience! The way she kept winking, seductively licked her 'spicy' fingers and gave a naughty look when a nacho got into her dress- that sensual vibe didn't seem to be suitable for young consumers. Anyway, it's not JJH's fault (to be so sexy-haha), she did what she was asked to do so well.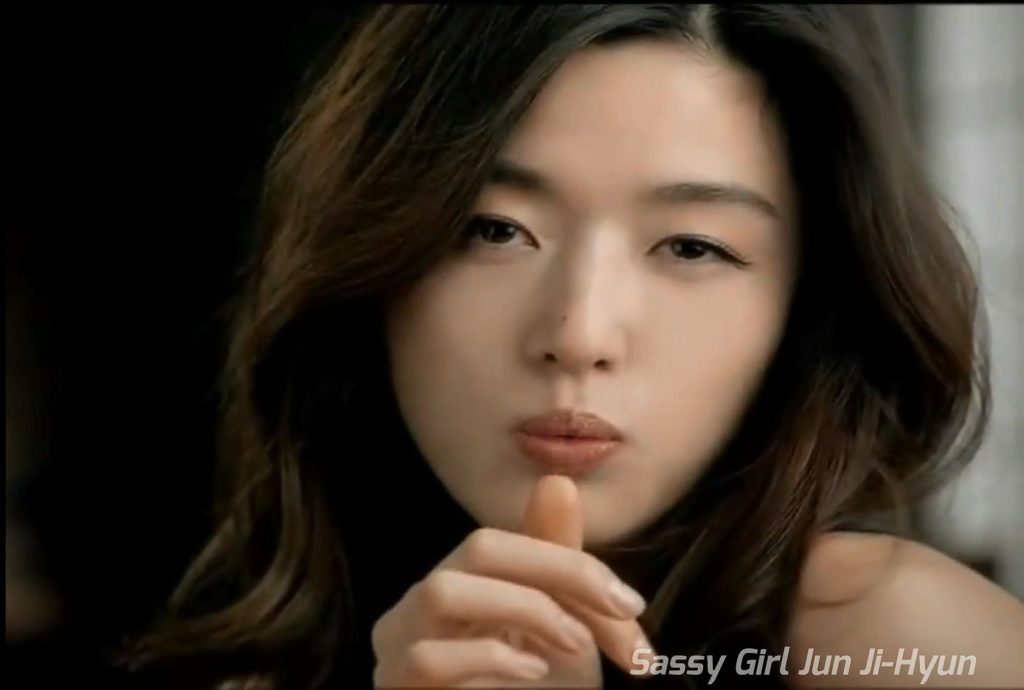 So, despite getting 100% positive response from adult audience (Aged 25-45 yrs) in an Ad Survey, Orion was compelled to delete that CF from their official Youtube channel and website. And the next year, they made another CF with Jun Ji Hyun which looked appropriate for teenage consumers- but so cringey and no fun!
02. Jun Ji Hyun's Giordano CF with Jung Woo-sung (2004)
As it seemed, Jun Ji-hyun had an amiable relationship with her senior oppa- actor Jung Woo-sung, a funny-handsome guy, who belonged to same agency as Jun (SidusHQ).
Long before their only big screen project 'Daisy', they started their on-screen journey together as models of Giordano Clothing (back in 2001). And their on-screen chemistry in CF and photo-shoots came out so sweet too. Thereby they were recognized as 'CF couple' in South Korea. In 2002, Jun and Jung were paired in a water bottle (2% water) commercial cum music video too.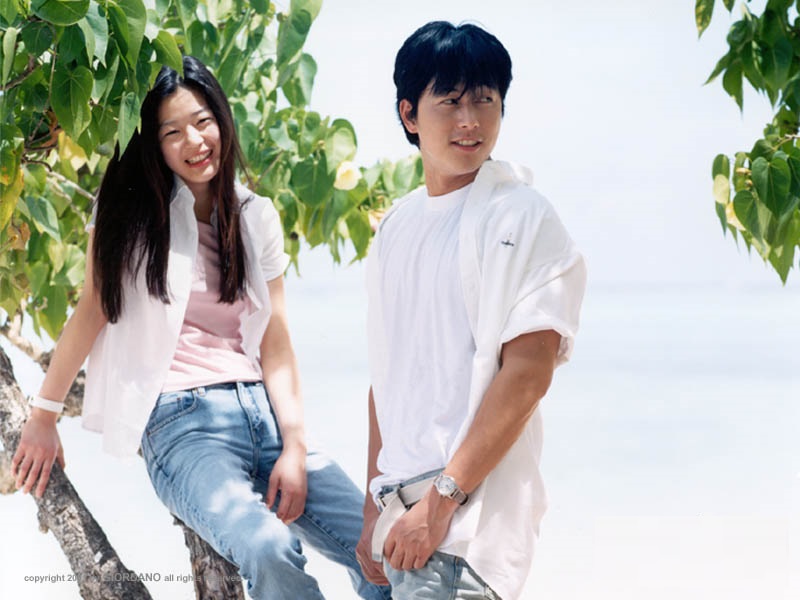 Then in 2004, Giordano played a big trump card- they released a steamy commercial starring their bankable 'CF couple' (that many fans call as Jun's hottest CF in her entire modeling career!) And the photo-shoot along with it had more adult vibe too.
So in this CF, Jun Ji-hyun looked like a spoiled queen dancer in a night club. And it was kind of funny to see that, it was a female-dominated club! So just 1-2 plain guys were dancing so far and Jun was totally surrounded by her 'ladies only' group.
Then, as soon as a dashing guy (Jung woo-sung) entered there, Jun hotted up and wanted to be naughty with him! So she approached and tried to seduce Jung, but he seemed so impassive. Finally, when Jun threw up her cards, Jung touched Jun's shoulder from the behind- that meant he was actually impressed with her-Yay!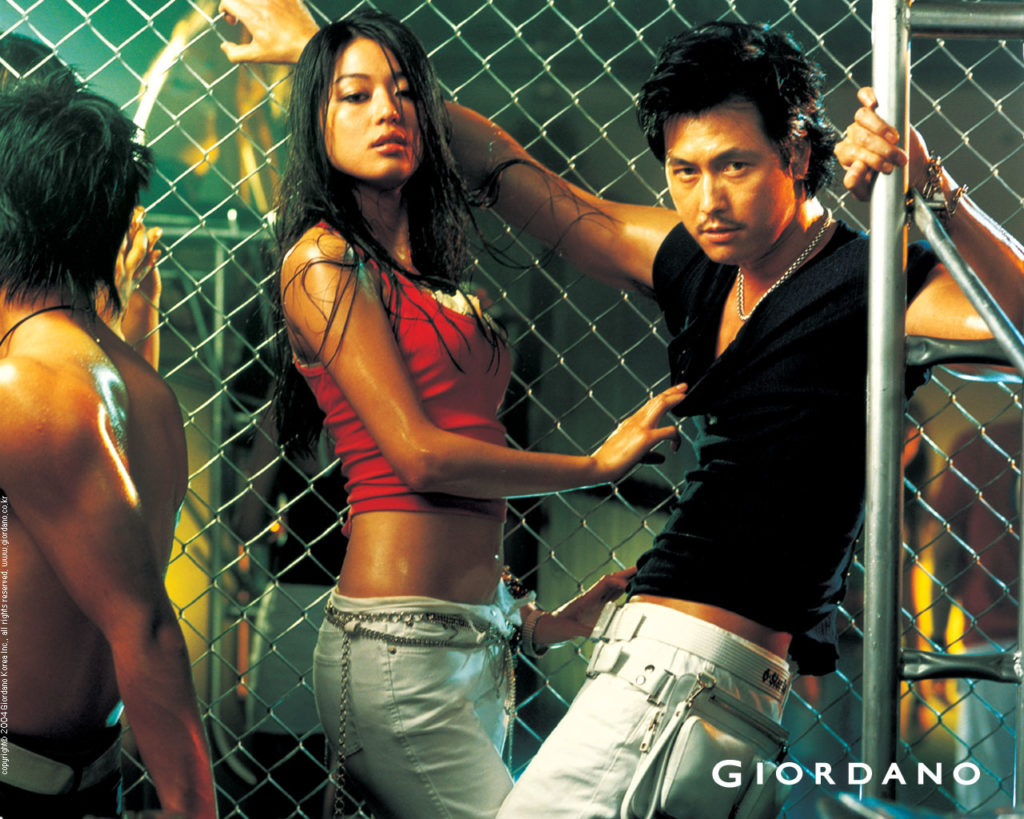 Now, this sensual CF deemed 'too explicit' to Korean censorship commission (may be they were much more conservative back then) for suggestive gestures and sexual objectifying portrayal of Jun & other models. So it got banned from all Korean public TV networks.
But as it seemed- Giordano knew that it would be banned and create a sensational hype. So they just made it available in their website for curious viewers! And Korean government had no such control over internet, so Giordano's marketing strategy came out highly successful, that controversial CF really created a buzz to skyrocket their sale! And Jun Ji Hyun and Jung Woo Sung also got the title 'Hot CF couple' in South Korea.
Witty Comments from Korean Audience!
Whatever, after long years, that 'banned' CF again got viral in Korea (thanks to Youtube!)- and many Koreans (mostly women I guess) put off hilarious & graceful comments there.
"Wow, Jun Ji hyun is super pretty, her body is f*cking….."
"Even now, it seems so sexy"

"I wonder, Ji hyun unnie's hubby would like to get back home…"

"Jun Ji Hyun's husband won't ask her to put on makeup anymore." (LOL!)

"Haha, I still remember…when they played this commercial in a downtown store, a lot of people were crowded, haha…this CF led to Giordano's current position (ultimate success)!"

"She's in good shape, her face is pretty too, she has it all!"

"Why this CF was banned…haha…but it could happen back then.."
I'm a woman too…but if such a woman (sexy Jun!) appeared before me, I would have died of heart attack!"
And you know, Jun Ji-hyun is back to Giordano again (in 2020) after 11 long years! Yeah, that's the power of her evergreen aura!
03. Jun Ji Hyun 17 Tea Limbo CF (2006)
Let me spill some harsh truth first. In the name of selling bottles of herbal tea (17 Tea), Namyang Dairy actually sold Jun Ji-hyun's appealing body to its consumers!
Also, in first photo-shoot with 17 Tea, Jun neither looked sexy nor charming, in most of the photos- it looked like she was on drugs! (how sad to say that as a fan! So I won't attach any of her druggy-looking photos to this article.)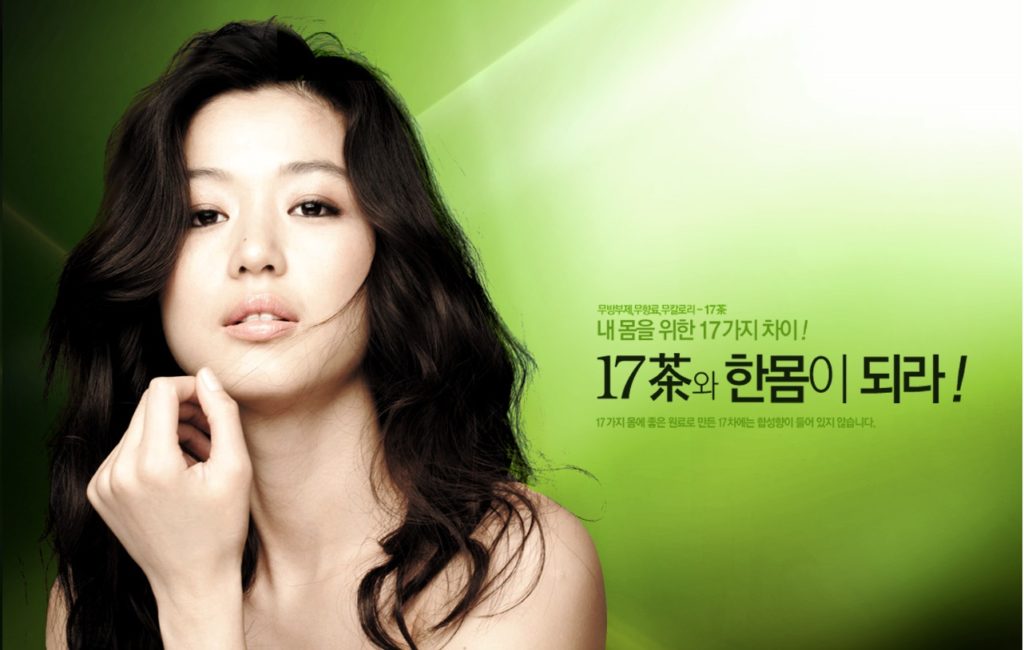 But Jun could manage to show both her sexiness and cuteness (even with an innocent vibe) in most of her later commercials and photo-shoots. So the sale of 17 Tea sky-rocketed too— it became so popular among youngsters who wanted to have a girlfriend like Jun and all the Korean girls who wanted to have a perfect body like her!
In third installment of 17 Tea CF (2006), Jun appeared as a chick girl at a night club premise. But she didn't grab a glass of beer or soju, she was holding a bottle of 17 Tea! The surrounding people were amazed at her vibe, so one of them invited her to play limbo. And when she was crossing the ribbon….her breast got focused on camera! At the end, she won the game and smiled so delightfully.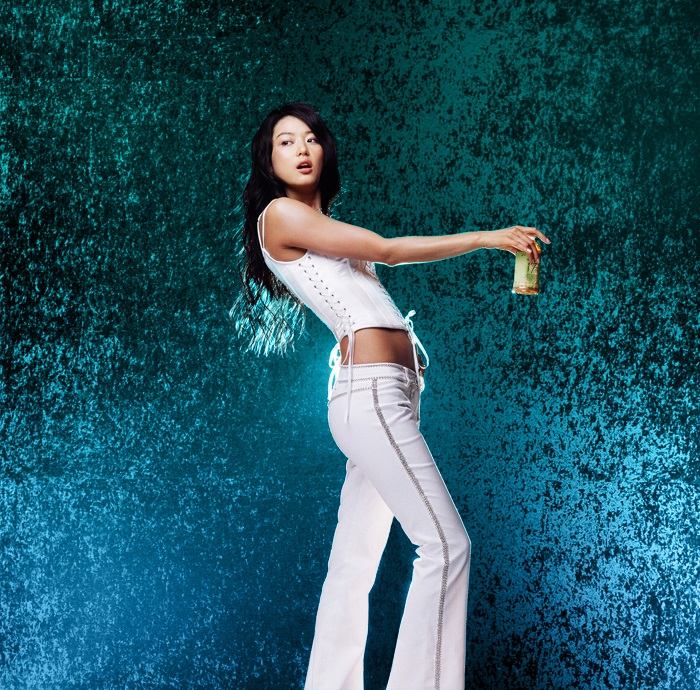 So, as the content of CF wasn't appropriate for young viewers, the full version got banned from TV broadcast, only the snippets were shown at late night. But you know, 'interested' viewers could watch the full CF from multiple sources- so marketing strategy of Namyang's 17 Tea got highly successful too!
According to a report of 'Star News' , the sales of 17 Tea increased by five times after Jun Ji-hyun appeared in a commercial on February, 2006. And by August, 2006, 17 Tea was sold 6-7 million bottles per month in Korean market! Such a booming sale of a herbal tea- all thanks to 'Jun Ji-hyun's effect'!
04. Jun Ji Hyun 17 Tea Bar CF (2007)
Concept of this CF is kind of similar to the previous one and the full version got banned from TV broadcast from the same reason. Here, Jun Ji-hyun entered into a bar, but not for drinking wine, just to pick up 17 Tea and cheer the mass people! So she rode on a bull, tapped the bottle of 17 Tea like a bottle of whiskey, amused the audience…and huh, once again her breast got focused on camera.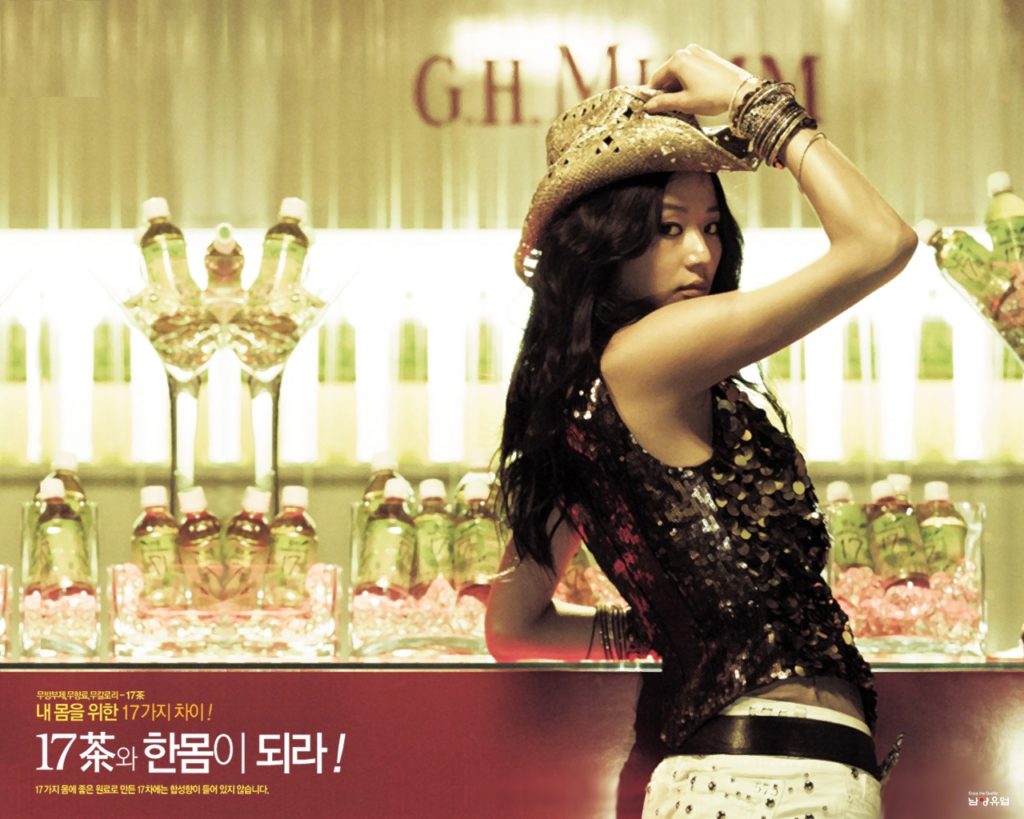 Likewise, this CF also got popular that retained the booming sale of 17 Tea. Jun must have earned tons of money too as an inspirational model and brand ambassador — so it was a win-win deal for both party.
Nonetheless…Jun's image as a movie star really suffered a lot for years for her overexposure in such CF. So "no pain, no gain"!
05. Jun Ji Hyun's Olympus CF with Daniel Henney (2005)
Even before appearing in MBC hit drama 'My Name is Kim Sam-soon', British-American model Daniel Henney became quite popular inKorea, as he was the man who tempted Jun Ji hyun in an Olympus Camera advertisement.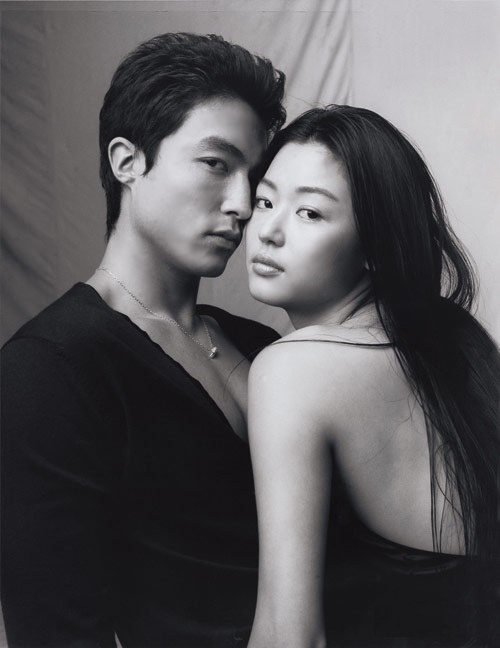 In that particular CF, Jun was seen to crawl like a snake towards Daniel with an innocent face, confusing eyes- the overall environment looked creepy rather than sexy. But as Daniel started to take photos of Jun with his Olympus Camera, Jun suddenly decided that, " I won't live straight from now on" and got so close to him. And we can see that she was wearing a backless dress…that's the end of this commercial!
Overall, 30 sec version of this black-white CF looked artistic to some point. Still it later got banned from Korean TV networks for its 'erotic vibe'. Nonetheless, the CF got popular meanwhile, specially rookie model Daniel Henney became so famous as a seductive-handsome guy who even outshone Jun in that particular advertisement.
So now, let's watch all those BANNED TV commercials!
Summary: Why Jun Ji hyun's Sensational TV Ads Got Banned
Most of these commercials were strictly banned from all Korean public TV networks back then for suggestive gestures and explicit contents. (And probably they thought that these are not suitable for all viewers like children- which is damn true). But they were available on many websites for curious viewers (eyes wink!) So the product sales sky-rocketed too -like in 2006-7, "17 Tea" was sold 6-7 million bottles per month in Korea! – so all hail to the CF queen Jun Ji hyun (Ha-ha!)
How Jun Ji hyun's popularity Suffered Due to Overexposure in Commercial
You know, even after huge success of 'My Sassy Girl', Jun Ji hyun had been always choosy about her movie-drama projects. So she mainly earned her fortune as a model- by appearing in hundreds of TV commercials. And she became the CF queen in Korea too- just by her name, shampoo, tea, cloths, camera, makeup- each and every product sold like a hot cake!
But after years, Korean viewers really got bored of her same cute-sexy-mysterious appearance. So on power Korean model survey in 2007, Jun surrendered her first place to Jang Dong-gun , even newcomer Danniel Henney (being 4th) surpassed Jun's popularity as model.
Jun's international movie projects were complete failure too. Even she got no success in domestic box office after 'My Sassy Girl' , there were legal issues with her first agency too. Jun's modeling career also hit the bottom by 2010.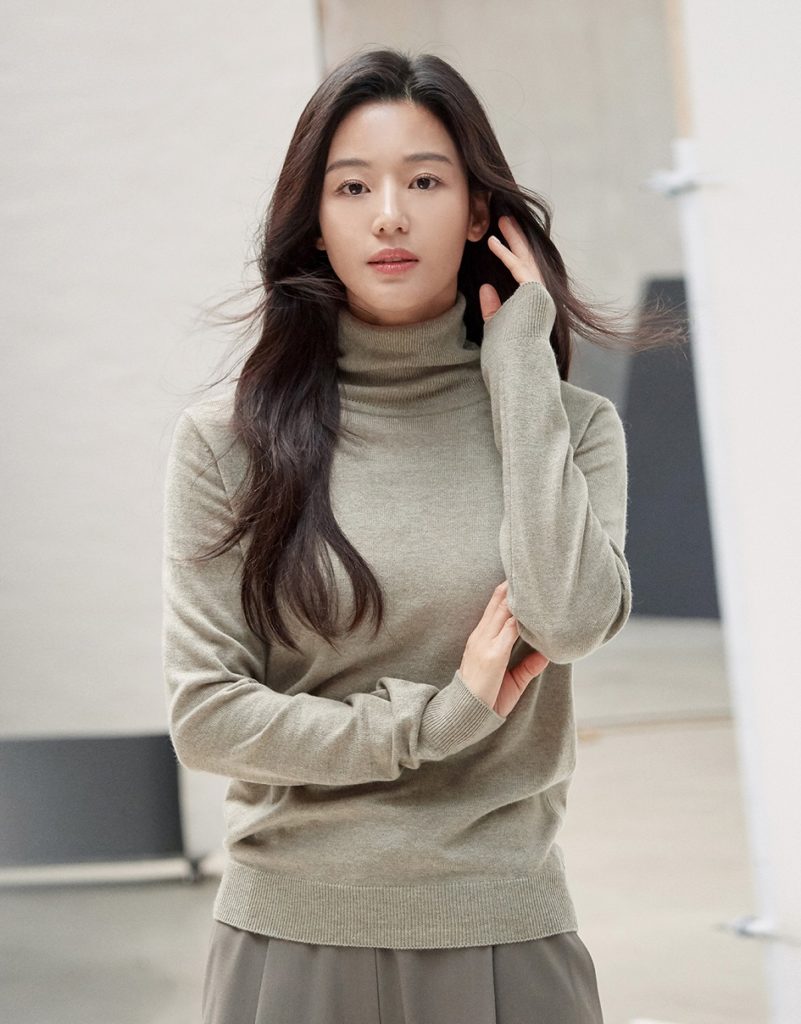 But Gianna Jun knew, how to hold the breath, how to keep up the hard work despite consistent failures. And after her marriage, she seemed to become more matured- as she reformed her modeling image as 'an idol woman'. And fortune also started favouring her hard work, so her super-hit movie-dramas like 'The Thieves', 'The Berlin File', 'My Love from the Star' once again made Jun 'CF queen' of South Korea! YES- that's the supreme position she deserved all the way!